Uitvaartmuziek zoekmachine op alfabet
Fpvi is geen eigenaar van de muziekvideo die je kunt beluisteren en bekijken. De top 50 en de lijst van aanbeveling dienen uitsluitend ter oriëntatie op muziek voor een uitvaart of scenarium. Ben je zelf eigenaar en heb je bezwaar tegen deze weergave? Neem dan contact op via het contactformulier en wij verwijderen de link binnen 24 uur.
A
ABBA – Move On
Acda en de Munnik – Ren Lenny Ren
Bryan Adams – Please Forgive Me
Bryan Adams & Luciano Pavarotti – 'O Sole Mio
Oleta Adams – Get Here
Adele – Make You Feel My Love
Chloe Agnew – Jesu, Joy Of Man's Desiring
Christina Aguilera – Hurt
Alabama – Goodbey
Alan Parsons Project – Time
Willeke Alberti – Telkens Weer
Willy Alberti – Moeder Hoe Kan Ik Je Bedanken
Tomaso Albinoni – Adagio
Tomaso Albinoni – Largo
All Angels – The Sound Of Silence
AlphaVille – Forever Young
Jessica Andrews – You Will Never Be Forgotten
Anouk – Sacrifice
Lady Antebellum – Never Alone
Anthony and the Johnstons – One Dove
Louis Armstrong – When You Wish Upon A Star
Charles Aznavour – La Mama
Uit onze Uitvaart Top 50:
5. Bryan Adams – Heaven
13. Alan Parsons – Old and Wise
38. Anouk – One Word
41. Louis Armstrong – What A Wonderful World
B
Bach – BWV 147 – 7 (Jesus bleibet meine Freude)
Bach – BWV 244 (Mattaus passion)
Bach – Brandenburger Concert nr. 4 (BWV 1049)
Bach – Brandenburger Concert nr. 6 (BWV 1051)
Bach – Air (Orchestral Suite N° 3 in D Major_BWV 1068)
Barber – Adagio For Strings
John Barker – Thank You For Being My Dad (Song For Dad)
De 3 Baritons – Innamorato
Frans Bauer – De Hemel Heeft Er Een Engel Bij
Frans Bauer – Trein Naar Niemandsland
Frans Bauer – Verloren
The Beatles – Here Comes The Sun
Gilbert Bécaud – Et Maintenant
Natascha Bedingfield – Still Here
Bee Gees – Tears
Bee Gees – Wish You Were Here
Bee Gees & Celine Dion – Immortality
Meriam Bellina – One Day At A Time
Berlin – Take My Breath Away
Georges Bizet – Les Pêcheurs De Perles (The Pearl Fishers, De Parelvissers)
Blackfoot – Highway Song
Karin Bloemen – Geen Kind Meer
Karin Bloemen – Dit Is Het Moment
Blof – Zo Stil
Blof – Het Regent Harder Dan Ik Hebben Kan
James Blunt – Goodbye My Love
Blof – Dansen Aan Zee
Frida Boccara – Cent Mille Chansons
Andrea Bocelli – Per Amore
Andrea Bocelli – The Lord's Prayer
Frank Boeijen – Zeg Me Dat Het Niet Zo Is
Marco Borsato & Trijntje Oosterhuis – Wereld zonder Jou
Marco Borsato – Waarom Nou Jij
Marco Borsato – Opa
Stef Bos – Papa
David Bowie – Heroes (2002 Digital Remaster)
David Bowie – Lazarus
David Bowie – Space Oddity (Major Tom)
Susan Boyle – Hallelujah
Boyz II Men – End Of The Road
Brainpower – Je Moest Waarschijnlijk Gaan
Goran Bregovic – Dreams
Claudia de Breij – Mag Ik Dan Bij Jou
Jacques Brel – Ne Me Quitte Pas
Herman Brood – My Way
Herman Brood – Treintje Naar Dromenland
Herman Brood & Mc Drama – Papa Komt Vanavond Niet Thuis
Vicki Brown – Stay With Me 'Til The Morning
Jeff Buckley – Hallelujah
Chris de Burg – One Mile To Go
BZN – Should I Cry
BZN – Goodbey
BZN – Le Legionnaire
BZN – Mother
Uit onze Uitvaart Top 50:
3. Andrea Bocelli & Sarah Brightman – Time To Say Goodbey
8. Marco Borsato – Afscheid Nemen Bestaat Niet
11. Boyz II men – It's So Hard To Say Goodbey To Yesterday
14. Andrea Bocelli – The Power Of Love
23. Bach – Aria uit de Goldbergvariaties BWV 988
25. Beethoven – Mondschein Sonate Op. 27, nummer 2 (eerste deel)
34. Marco Borsato – Het Water
45. James Blunt – Goodbey My Love
47. Shirley Bassey – The First Time Ever I Saw Your Face
C
Irene Cara – Out Here On My Own
Mariah Carey – Butterfly
Mariah Carey – Without You
Maria Carey – Hero
Maria Carey – I'll Be There
Jose Carreras – Memory
Johnny Cash – Hurt
Catfish Cadenza- Remember Me
Celtic Women – Amazing Grace
Chango – The Last Ride
Richard Clayderman – Ballade Pour Adeline
City To City – The Road Ahead
Clouseau – Laat Me Nu Toch Niet Alleen
Joe Cocker – Everybody Hurts
Leonard Cohen – Hey That's No Way To Say Goodbye
Coldplay – The Scientist
Coldplay – Fix You
Nat "King" Cole – Unforgettable
Phil Collins – Can't Stop Loving you
Sinead O'Connor – Nothing Compares To You
Alice Cooper – How You Gonna See Me Now
Julie Covington – Don't Cry For Me Argentina
Randy Crawford & Joe Sample – When I Need You
Randy Crawford – One Day I'll Fly Away
Jim Croce – Time In A Bottle
Uit onze Uitvaart Top 50:
4. Eric Clapton – Tears in Heaven
30. Clouseau – Afscheid Van Een Vriend
43. Phil Collins – Against All Odds
44. Chopin – Nocturne Opus 9 nummer 2
50. Ben Cramer – De Clown
D
Grad Damen – Ongelijke Strijd
Doris Day – Que Sera Sera (Whatever Will Be Will Be)
Deer Tick – Goodbye, Dear Friend
John Denver – The Flower That Shattered The Stone
John Denver – Annie's song
Neil Diamond – Dear Father
Céline Dion – Fly
Céline Dion & Barbra Streisand – Tell Him
Céline Dion – My Heart Will Go On
Céline Dion – Because You Loved Me
Do – Heaven
Placido Domingo – Nessun Dorma
Wieteke van Dort (Tante Sien) – Geef Mij Maar Nasi Goreng
André van Duin – Mijn allergrootste fan
Bob Dylan – Knockin' On Heavens Door
Uit onze Uitvaart Top 50:
10. Celine Dion – Ave Maria
12. Doe Maar – Alles Gaat Voorbij
E
Eagles – Desperado
​Eagles – I Can't Tell You Why
Enya – May It Be (Lord Of The Rings)
Enya – Hope Has A Place
Gloria Estefan – Here We Are
Europe – Final Countdown
Uit onze Uitvaart Top 50:
F
Fallen Soldier Tribute – Heaven Was Needing A Hero
Tommy Fleming – Sand And Water
C. Franck – Panis Angelicus
Rene Froger – This Is The Moment
G
Peter Gabriel  & Kate Bush- Don't Give Up
Art Garfunkel – Bright Eyes
Gerry & the Pacemakers – You'll Never Walk Alone
Gypsy Kings – A Mi Manera (I Did It My Way)
Gordon Garner – Heaven Got Another Angel
Gloria Gaynor – I Will Survive
Gordon – Kon Ik Maar Even Bij Je Zijn
Gordon – Mijn Laatste Lied Voor Jou
C. Gounod – O, Divine Redeemer
Francis Goya – Greensleeves
Glennis Grace – Afscheid
Glennis Grace – Als Je Slaapt
Norman Greenbaum – Spirit In The Sky
Herbert Grönemeyer – Der Weg
Boudewijn De Groot – Testament
Boudewijn De Groot – Vlinder
Guns N' Roses – Patience
Uit onze Uitvaart Top 50:
20. Guns N' Roses – November Rain
46. Grieg – Morgenstimmung uit de Peer Gynt Suite nummer 1
H
G. F. Handel – Largo (from 'Xerxes')
G. F. Handel – Lascia Chio Pianga
Hansel Und Gretel – Abends Will ich Schlafen Gehn
Justin Hayward – Forever Autumn
Molly Hatchet – One Last Ride
André Hazes – Bedankt, Mijn Vriend
André Hazes – Nu Jij Er Niet Meer Bent
Heintje – Mama
Youp van 't Hek – Meneer Alzheimer
Youp van 't Hek – Niemand Weet Hoe Laat Het Is
Toon Hermans – 24 Rozen
Aafje Heynis – Bist Du Bei Mir
Hinder – Lips Of An Angel
Doc Holliday – Last Ride
Whitney Houston – One Moment In Time
Whitney Houston – All At Once
Whitney Houston & Maria Carey – When You Believe
Uit onze Uitvaart Top 50:
17. Whitney Houston – I Will Always Love You
37. André Hazes – De Vlieger
I
Enrique Iglesias – Hero
Il Divo – Mama
J
De 3 J's – Je Vecht Nooit Alleen
Michael Jackson – You Are Not Alone
Michael Jackson – Human Nature
J. G. Jacobi – Litanei (Ruhn In Frieden)
Ruth Jacott – Leun Op Mij
Ruth Jacott & Hans Vermeulen – Tegyo Makandra
Richard Janse – Droom Van Mij
Jargon feat. Grace Garcia – One Last Ride
Max Jens – Mooi Maar Ten Einde
Jewel – Foolish Games
Elton John – Your Song
Peter C. Johnson – Goodbye Dear Friend
Tom Jones – Green Green Grass Of Home
Freek de Jonge – Leven Na De Dood
Gary Jules – Mad World
Uit onze Uitvaart Top 50:
22. Elton John – Candle In The Wind
K
K's Choice – Favourite Adventure
Israel "IZ" Kamakawiwoʻole  – Somewhere Over The Rainbow
De Kast – Het Hart Van Mijn Gevoel
Ronan Keating – If Tomorrow Never Comes
The Kelly Familie – David's Song
Kinderen voor Kinderen – Mijn Laatste Oma
Kinderen voor Kinderen – Mijn Vader Is Een Ster
Kinderen voor Kinderen – Het leven duurt een leven lang
Kinderen voor Kinderen – Mama (Waar Ben Je Nou?)
Kinderen voor Kinderen – Opa's Laatste Feestje
Kinderen voor Kinderen – Ik Heb Een Vraag Aan De Baas Van De Hemel
Kinderen voor Kinderen – De Lek
Klein Orkest – De ballade van de dood
Rene Klijn – Mister Blue
Corry Konings & Pierre Kartner (Vader Abraham) – Adios, Mijn Vriend
Johny Kraaykamp – Er Is Een Amsterdammer Doodgegaan
Carel Kraayenhof – Adiós Nonino
Lenny Kravits –  Heaven Help
Krezip – Sweet Goodbyes
Wolter Kroes – Geen Dag Voorbij
Lenny Kuhr – De Troubadour
Uit onze Uitvaart Top 50:
18. K3 – Wanneer Zie Ik Jou Terug
28. Kinderen voor Kinderen – Dat Was Papa
L
Sarah McLachlan – I Will Remember You
Sarah McLachlan – In The Arms Of An Angel
Ilse de Lange – I Still Cry
Ilse de Lange – Time Will Have To Wait
Ilse de Lange – We Are One
Ilse de Lange – I Need For You
James Last – Blijf Bij Mij Heer
Avril lavinge – Slipped Away
Avril Lavinge – When You're Gone
Don McLean – Vincent (Starry,Starry Night)
Paul de Leeuw – Afscheid
Paul de Leeuw – Voorbij
John Lennon – Imagine
D.C. Lewis – Mijn Gebed
Linkin Park – Leave Out All The Rest
Linkin Park – Hands Held High
Robert Long – Voor Als Ik Er Niet Meer Ben
Uit onze Uitvaart Top 50:
16. Paul de Leeuw – De Steen
24. Led Zeppelin – Stairway To Heaven
31. Vera Lynn – We'll Meet Again
M
Peter Maffay – Über Sieben Brücken
Gustav Mahler – Kindertotenlieder
Yannis Markopoulos- Who Pays The Ferryman
Bob Marley – Redemption Song
Johnny Marr and the healers – Lastride
Jules Massenet – Meditation
Metalllica – Turn The Page
Guus Meeuwis – Haven In Zicht
Wim Mertens – Close Over
Reinhard Mey – Als De Dag Van Toen
Reinhard Mey – Gute nacht Freunde
George Michael – The Grave
George Michael – One More Try
George Michael & Elton John – Don't Let The Sun Go Down On Me
Bette Midler – Wind Beneath My Wings
Mike & The Mechanics – The Living Years
Moby – Go
Wim Del Monte – Vaarwel papa (Zonder U)
Monty Python's Life of Brian – Always Look On The Bright Site Of Life
The Moody Blues – Nights In White Satin
Nana Mouskouri – Only Love
Mozart – Ave Verum
Mozart – Requiem
Uit onze uitvaart top 50:
1. Guus Meeuwis – De Weg (Midzomernachtdroom)
6. Mozart –  Andante uit pianoconcert nummer 21, KV467
7. Bette Midler – The Rose
19. Metallica – Nothing Else Matters
N
Nazareth – Love Hurts
Nick & Simon – Kijk Omhoog
Nick & Simon – Pak Maar Mijn Hand
Nightwish – The Last Ride Of The Day
Rob de Nijs – Zo Zal Het Zijn
Rob de Nijs – De Belofte
Normaal – Ajuu De Mazzel
Normaal – Achter De Wolken
Normaal – Ballade Van Een Muzikant
Nurlaila – Alsof Je Bij Me Bent
Uit onze Uitvaart Top 50:
40. Rob De Nijs – Alles Wat Ademt
O
Ozzy Osborne – No More Tears
Maaike Ouboter – Dat Ik Je Mis
The Outlaws – One Last Ride
Uit onze Uitvaart Top 50:
42. Trijntje Oosterhuis – Gone Too Soon
P
Drs. P – Het Land Is Moe
Johann Pachelbel – Canon In D
Arvo Part – Spiegel Im Spiegel
Passenger – Let Her Go
Luciano Pavarotti – Mama
Astor Piazzolla – Oblivion
Pink Floyd – On The Turning Away
Pink Floyd – Comfortably Numb
Max van Praag – Zilveren draden tussen het goud
Elvis Presley – Always On My Mind
Elvis Presley – Long Black Limousine
Elvis Presley – I Miss You
Elvis Presley – Why Me Lord
Elvis Presley – Memories
Elvis Presley – Indescribably Blue
Prince – Purple Rain
Uit onze Uitvaart top 50:
2. Puff Daddy – I'll Be Missing You
29. Pink Floyd – Wish You Were Here
39. Edith Piaf – Non, Je Ne Regrette Rien
Q
Queen – You Take My Breath Away
Queen – The show Must Go On
Queen – Innuendo
Queen – Is This The World We Created
Uit onze Uitvaart Top 50:
15. Queen – Who Wants To Live Forever
R
Racoon – Don't Give up The Fight
Eros Ramazotti – Un Emozione Per Sempre
Tony Ramey – The Last Ride
Rammstein – Engel
Ravel – Bolero
R.E.M. – Everybody Hurts
R.E.M. – Find The River
Cliff Richard – Miss You Nights
Andre Rieu – The last Rose
Andre Rieu – Nearer, My God, To Thee
Andre Rieu – Il Silenzio
Righteous Brothers – Unchained Melody
Leann Rimes – Amazing Grace
Rolling Stones – Angie
Rolling Stones – Ruby Tuesday
Rolling Stones – Sympathy for the devil
Rolling Stones – Time Waits For No-One
Rolling Stones – Paint It Black
Rolling Stones – You Can't Always Get What You Want
Rolling Stones – It's Only Rock'n Roll (And I Like It)
Rolling Stones – Wild Horses
Rolling Stones – Out Of Time
Rolling Stones – Tears Go By
Ronny – Auf Einem Seemannsgraf
Diana Ross – Do You Know (Theme From Magohany)
Jan Rot – Stel Je Voor
Jan Rot – Stel Dat Het Zou Kunnen
Demis Roussos – Goodbey My Love Goodbey
Demis Roussos – Rain And Tears
Rowwen Hèze – Met De Neus Omhoog
Todd Rundgren – The Last Ride
Uit onze Uitvaart Top 50:
49. Leon Russell – A Song For You
S
Alessandro Safina – Aria E Memoria
Erik Satie – Gnossienes
Leo Sayer – Orchard Road
Scabs – Hard Times
Frans van Schaijik (de Zingende Zwerver) – Ketelbinkie (Toen Wij Uit Rotterdam Vertrokken)
Anny Schilder – Goodbye Farewell
Schubert – Unvollendete Symphonie (Unfinished Symphony Andante Con Moto)
Schubert – Ellens Gesang III D 839 0p. 52 no 6 (Ave Maria)
Schubert –  Ganymed D544
Schubert – Kensst Du Das Land D321
Schubert – Heiss Mich Nicht Reden
Schubert – So Lasst Mich Scheinen
Schubert – Nur Wer Die Sehnsucht Kennt D877/4
Schubert – Liebhaber In Allen Gestalten
Schubert – Heidenröslein D257
Schubert – Nähe Des Geliebten D162
Schubert – Die Forelle D550
Schürzenjäger – Sierra Madre –> zie Zillertaler Schürzenjäger  (Artiesten Z)
Scorpions – Still Loving You
Scorpions – Wind Of Change
Jessica Simpson & Nick Lachey – Where You Are
Simply Red – Heaven
Frank Sinatra – My Way
Jan Smit – Ik zing dit lied voor jou alleen
Jan Smit – Laura
Mercedes Soza – Gracia La Vida
Spandau Ballet – Through The Barricades
Spice girls – Mama
De Stem Des Volks – Morgenrood
Cat Stevens – Morning Has Broken
Rod Stewart – Sailing
Rod Stewart – I'll Be Seeing You
Rod Stewart – Reason To Believe
Rod Stewart – You're In My Heart
Shakespear's Sister – Stay
Sting – Fragile
Sting – When the Last Ship Sails
Barbra Streisand – Somewhere
Barbra Streisand – Papa can you hear me
Barbra Streisand & Celine Dion – Tell Him
Supertones – Last Ride
Sweet People – And The Birds Were Singing (…Et Les Oiseaux Chantaient)
Taylor Swift – Teardrops on my guitar
Swiss – If Tomorrow Never Comes
Uit onze Uitvaart Top 50:
27. Simon & Garfunkel – Bridge Over Troubled Water
32. Bruce Springsteen – Terry's Song
35. Wim Sonneveld – Het Dorp
T
Tchaikovsky – Valse Sentimentale
Mieke Telkamp – Waarheen, Waarvoor
Ralph McTell – Streets Of London
The Three Tenors – Those Were The Days
Daniel Testa – One Last Ride
Yann Tiersen – L'Apres Midi
DJ Tiësto – Elements Of Life
Gert Timmerman – Een moederhart, een gouden hart
Gert Timmerman – Ik Heb Eerbied Voor Jouw Grijze Haren
Lee Towers – The Last Farewell (For You Are Beautiful)
Will Tura – Hoop Doet Leven
Tina Turner – Simply The Best
Shania Twain – From This Moment On
Shania Twain – You're Still The One
Bonnie Tyler – Say Goodbye
Uit onze Uitvaart Top 50:
21. Toto – I'll Be Over You
48. Tarrega – Recuerdos de la Alhambra
U
U2 – With Or Without You
U2 – Every Breaking Wave
Ultimate Ft. Jee & Sandra – Ik Laat Je Los
Uit onze Uitvaart Top 50:
26. U2 – One
V
Vader Abraham – Zou Het Erg Zijn Lieve Opa
Vader Abraham – Zo Is Het Leven
Conny Vandenbos – Roosje M'n Roosje
Luther Vandross – The Impossible Dream
Vangelis – Main Theme From "Missing"
Vangelis – Messages
Van Morrison – Have I Told You Lately That I Love You
Herman van Veen – Alles
Herman van Veen – Wie Heeft De Zon Uit Jouw Gezicht Gehaald
Piet Veerman – Sailing Home
Venice – The Family Tree
Volumia – Afscheid
Vivaldi – Vier Jaargetijden
W
Jennifer Warnes – Bird On A Wire
Koen Wauters – Leef Je Leven
Web Sisters – It "ll Be Your Will
Marianne Weber – Goodbye My Love
Marianne Weber – Ik Ben M'n Beste Vriend Verloren
Hayley Westenra – Dark Waltz
Westlife – I'll See You Again
Westlife – You Raise Me Up
Westlife – Too Hard to say Goodbey
Barry White – Let's Just Kiss And Say Goodbey
Roger Whittaker – Schön War Die Zeit
Gin Wigmore – Dying Day
Andy Williams – The Impossible Dream
Bill Withers – Lean On Me
(Cast of the) Wizard of Oz – Ding-dong! The Witch is Dead
Dinand Woesthoff – Dreamer
Uit onze uitvaart Top 50:
9. Robbie Williams – Angels
33. Bernie Williams – Dust In The Wind
XYZ
Yiruma – A River Flows In You
Zillertaler Schurzenjager – Sierra Madre
Boek 'Alles over schenken, erven en uitvaart'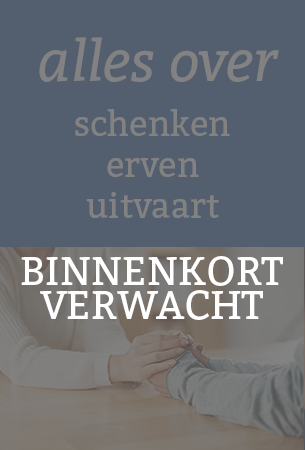 Uitvaartmuziek komt terug als belangrijk aandachtspunt in ons nieuwe boek 'Alles over schenken, erven en uitvaart'. We werken nu hard aan dat boek, via deze pagina is het boek vanaf juni/juli te bestellen voor circa 20 euro. Ook als cadeauboek met een eigen voorwoord en tekst op de kaft, zowel op de voor- als de achterkant van het boek.
Wil je onze conceptchecklist voor nabestaanden nu al ontvangen? Laat dan je e-mailadres achter via onze contactpagina, dan mailen we je de checklist voor nabestaanden voor zover we die nu gereed hebben toe. Wil je een berichtje ontvangen zodra dit boek beschikbaar komt? Of heb je tips voor ons boek? Laat dan je e-mailadres achter via onze contactpagina.